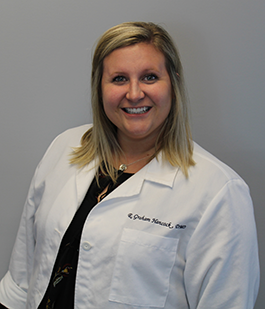 Rebekah Hancock, DMD
Dr. Hancock is a dentist with a passion for beautiful smiles. She attended Valdosta State University for undergraduate studies, and graduated with a Biology degree and a Chemistry degree. She was published in multiple articles for cancer research, and worked as an insurance agent to support her way through her undergraduate studies.
She and her husband Joseph relocated to Augusta, Georgia where she began her studies in dentistry at the Dental College of Georgia (DCG). During her time at DCG, Dr. Hancock served in multiple leadership positions such as the Dental Entrepreneurship Networking Society Representative and Give a Smile Foundation Fundraising Chair. She also took many courses, which included focus on pain free and esthetic dentistry.
In her practice, she is a proud member of the American Dental Association (ADA), Georgia Dental Association (GDA), and the Academy of General Dentistry (AGD). She continues to grow in her practice learning new and exciting ways to give back to her patients. Dr. Hancock's goal is to give patients a smile they are confident in sharing with others!
Dr. Hancock and her husband relocated to Locust Grove, GA to join the team at Sweet Spot Smiles. She enjoys singing, weekends in the mountains, spending time with her family and two Boston Terriers.